Profile of a new Hubspot VAR Partner | The Murphy Agency, Ohio
This is a repost of an article published by originally posted on the blog of John Murphy, President of The Murphy Agency, a marketing agency based out of Hudson, Ohio.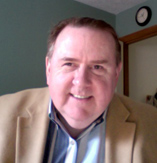 Last month, John officially became a HubSpot Certified Partner, and joins our growing team of Value Added Resellers (VARs). This, is his reflection on what he's learned from Hubspot + Inbound marketing so far....

Reflecting on what I've learned from my partner on-boarding training experience:
I've learned more about marketing in the 21st century in the last four months from HubSpot than I did in graduate school. To become certified as a partner, you have to buy the software and go through a four-month training program to learn how to use it. Even though I've passed the certification onboarding process, I'm far from done learning.
Training Materials and resources:
HubSpot has an amazing collection of case studies, research, tutorials and how-to books for its certified partners. And these materials are constantly being updated as new data comes in. As a marketer, having access to such a deep reservoir of knowledge at your fingertips is a dream!
LinkedIn groups give me access to other partners who can give me nearly instantaneous feedback on any issue I encounter. The interactivity I get through these groups is amazing. Partners pose questions of their peers, and the response is immediate. HubSpot feels like a real community of people who share a common vision and purpose, and it's great to be a part of that.
HubSpot makes today's marketing accountable, predictable and profitable
To me, HubSpot is the answer to what has ailed marketing for years. It gives marketers predictability and measurability in ways we never dreamed of just a decade ago. With HubSpot, you make decisions based on real data, not hunches.
It's tough to be a marketer today. People have opted out and found ways to block your messages with spam filters, Do Not Call lists, Sirius XM radio, DVRs and other technologies. Have you seen what's happened to newspaper and magazine circulation? No wonder Mad Money's Jim Cramer has proclaimed that "print is dead."
The Internet, on the other hand, is the largest publishing platform in all of human history, and consumers have fallen in love with Google, YouTube, Facebook, LinkedIn, Twitter and more. But what we love the most is being in charge. No longer must we depend on what an editor decides is important for us. Nor must we accept the claims found in product advertising.
We search for what we need, we read reviews, and we select the people we do business with, and it's all on our own terms. There has been a seismic shift in buyer behavior as customers are now clearly in charge throughout the buying process.
Adopting a complete tool set for marketing success in the 21st century:
HubSpot has responded to this change in buyer behavior with the development of a system they dubbed Inbound Marketing. HubSpot is a software company, but the company has developed a marketing system designed to do what companies want most: increase traffic to their websites, generate quality leads, convert those leads into customers and then measure every aspect of the marketing and calculate its cost and ROI. I'm excited by the prospect of offering a whole suite of digital marketing services built around the HubSpot model.
With HubSpot, I have every marketing tool at my disposal. I can create web pages, call-to-action buttons and landing pages in no time at all. The blogging tool is amazing with a built-in keyword tool for search engine optimization. Tying a lead nurturing email campaign to a landing page is easy, and every single click or action is counted and measured automatically. Space prohibits me from talking about all the features available in the software. You have to see it for yourself.
It's more than just software, it's the people you meet along the way....
But what's best about HubSpot are the people I've met. I've talked to people in tech support (more than once) and in sales and customer service, and I've never been treated like anything other than a rock star. I've also been helped by my own Channel Account Manager Dan Kamyck, and Nick Salvatoriello, the Inbound Marketing Consultant who coached me through the onboarding process and made it richly rewarding. I'm looking forward to meeting them all in Boston for Inbound 2012.
Nick "Sal"vatoriello. Hubspot VAR Inbound Marketing Consultant @Hubspot Inc.
Through a couple user groups on LinkedIn, I've been able to meet a slew of other HubSpot partner agencies, and every single one has been incredibly helpful. There is a community of people within HubSpot that's pulling for my success, and that is incredibly gratifying.
An example from a Hubspot VAR On-Boarding Linkedin Group Discussion
If you're unfamiliar with the concept of inbound marketing or with HubSpot, you should check out the company here. The Murphy Agency is going through a transformation because of what I've learned from HubSpot. It's an exciting new day, with new challenges, new opportunities, and new prospects.
I'm ready. Bring it on!