[VAR guest post] Inbound Marketing: My start of a HubSpot Love Affair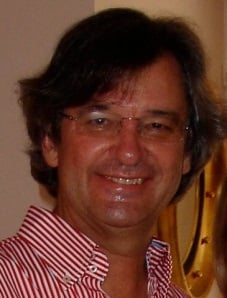 [Barry Osborne is a trained veterinarian and farm owner, an entrepreneur based in Austailia, the owner of Property Connect - a Real Estate Inbound Marketing Venture and a HubSpot Value-Added-Reseller (VAR). He can be reached on Twitter @propertyconnec1]
After nearly 40 years in a number of business ventures and looking at what might be my next venture, I was under very strict instruction from my wife,
"No more risking everything on the next venture, you should be thinking of retiring."
The best instructions I ever ignored:
Well, my project at the time was to sell some rural property to get some cash back out of our assets. This was not the easiest of challenges in this particular climate and the way the real estate industry was marketing left a lot to be desired, so I had to do something. I had time and I was keen to learn something new. So I designed my own website to sell one of my farms so I could gain a greater reach in the search of potential buyers as well as a way of telling the very special family stories of life on my farm.
A friend of my daughter who was very much into computer programming saw what I was doing and said "This would be a great service to offer to others who want to get involved in selling their property". This was the start of the new business venture, www.propertyconnect.me, which still has a little way to go to finish.
So with my next venture in mind, I started to research how I was going to market this. My few meetings with Real Estate Agents convinced me that I better do more research on what I could do. In this search I came across a term called Inbound Marketing which was telling me that the old way of marketing called Outbound Marketing, was not working effectively any longer. This I learnt also by having Real Estate Agents trying to sell my property and also by trying to sell my new business idea to the same Real Estate Agents. I found a very good Infographic which explained it so well.
With all this research information I go back to my wife with "The good news is that I have my next venture without high capital demands, but the bad news is I won't be able to retire for another 30 years (sorry God you may have to postpone my death for a while), this is too exciting." From my perspective as a business person, this offered so much potential to run businesses from home, and more importantly to relate to the market place that I had not thought of before. Looking back at all my businesses over the last 40 years which you can read about in www.BeyondTheIdea.com.au I realised that:
The first business in the early 80's was all about CUSTOMER SERVICE

The second Business later in the 80's was all about satisfying a CUSTOMER NEED.

The third Business in the 90's was all about CHANGING THE PARADIGM

The fourth Business at the beginning of 2000 was all about suppling an EXCEPTIONAL PRODUCT
I realised that doing business by this means, could include all those features, which is fantastic. I wanted to get started NOW! So with all this information in my head and getting more by the day through the web and collecting information via Evernote onto my iPad to read in my coffee breaks. I started collecting all these eBooks which was helping me so much to understand what I needed to do.
A REALISATION:
My wife had been getting upset for years about how I am always so free with telling people about my ideas; she was so concerned about people taking my ideas for themselves. But here I find the real good companies are there giving away all the "How to" instruction books and not thinking twice about it. This is a whole new world. So maybe people are now thinking like me and not my wife,
"Ideas are easy to come by; but the hard part is putting the idea into practice and making them successful."
The worse part about this experience was that there were so many companies out there who have learnt that this is also a great way to contact people and take advantage of them. You sign up for information, but then start to get pushy type salespeople who are hammering you daily with emails trying to sell you on a system that will make a 6 figure monthly income. Yeh, some people win the lottery to. I have only known hard work brings success.
Enter: Inbound Marketing
However, one company showed me the way. I noticed that many of the eBooks I was collecting was coming from HubSpot. I had no clue who they were. They are in the US and I am in Australia. Unknown at the time, I was following the normal modern Buying Process which I later was taught:
Performing Research on a particular need that I wanted solved

Establishing Buying Criteria and I could see that HubSpot could solve my biggest problem and that was how to pull together all these various functions (blogs, Facebook pages, Google + pages, Landing Pages, Calls to Action, Twitter, and all these various mediums).

Evaluate Vendors I am eager to know whether this company can solve my biggest issue and get me started.
Getting hands-on guidance from the inbound marketing experts...
Then I get a personal email from Frank Antonucci, a Channel Partner Manager at HubSpot who is prepared to arrange a telephone meeting to explain everything about whether HubSpot can achieve what I want. I was impressed, no hard sell but help and assistance. I arranged for a further meeting with my partner involved who is the real computer nerd. We were both convinced, and only had one question "when can we get started?" It happened immediately.
So early in August of this year, I meet my Inbound Marketing Consultant, Nick Salvatoriello who starts the Training process and opens up more opportunities to learn and is there always to help, advise, and most importantly drive me to achieve. My journey so far has been as follows:
Stage 1 - Orientation and Optimization:
The first month (Month of August) was mostly devoted to becoming familiar to the HubSpot Website, understanding the concepts of Inbound Marketing, and setting up. I was able to attend HubSpot Academy Classes on "Keywords" and "Blogging" fortunately not by attending the live classes but HubSpot even had recorded classes available for people like me Downunder so I didn't have to do them at 4 or 5am in the morning. But soon I had all my keywords set up as well as a Blog page with its associated CTA's, Landing Pages, and response emails. Nick and I were ready to fire.
Stage 2 - Creating Marketing Personas and Content Strategy:
Don't you know it, when everything is going great guns, something goes wrong. Our property website struck a few issues, and so we couldn't really start the marketing. But that would not hold us back. I still had a farm to sell, so why not start a new blog page, and start marketing that. So back to the Keywords and all the other associated items, all had to be redone. But at least we could start testing what had been learnt. But Nick makes certain that I am up to it with webinars on Marketing Personas and Content strategy which really made it clearer as to what I was doing.
Stage 3 - Action! Blogging and Social Media:
So at the beginning of October, Nick releases me with a goal of writing 3 Blogs a week. A list of 24 Topics of Blogs was brain stormed first and then the writing started in earnest. For nearly 4 weeks now the Blogs have been flowing and 10 Blogs have been published which has doubled the number of visits to the site in just that month. I have also been setting up pages in Facebook and Google+ so that when a new blog is published it is going through all those very popular social media sites alongs LinkedIn, Twitter, and Pinterest.
Stage 4 - Maintaining the publishing and cranking up the lead-generation machine:
Nick has made it very clear and I understand only too well that the real goal of everything that we are doing is not simply getting people to your website but getting those people converted into leads and then eventually into customers. I am at present simply getting my Blog Writing Machine working and once I have the property website up and running fully, I will move everything across to a new blog with a web-based real estate marketing product to market instead of a single farm. This should occur in a couple of weeks and this will be Stage 5...
Stage 5 - The Future: Relationship Marketing
I can fully appreciate the philosophy of Inbound Marketing and the real potential of it. I have always believed in my own businesses that one of the principles I used for over 40 years, was what I referred to as Relationship Marketing. My term for building business by looking after customers and suppliers, as well as encouraging them to be looking after you. This is simply another advancement of that philosophy and the reason why I think it is so great. It gives you the credibility in the market place by demonstrating through your blogs etc that you and your company are definitely a person and an organisation to do business with. With the Internet and the Inbound Marketing Principles, this has all been made easier for the real sincere credible companies, but better still will be harder for those companies that simply want to take advantage of customers. It is hard to fake sincerity by writing a large number of blogs.
Well, I still have so much to learn, but boy, this to me opens up so much potential, so that I never, ever have to retire. Sorry darling (my wife), but we will fit in some holidays.