6 Ways to Make Your Sales Team Smarter with Hubspot's ProspectMax
Aligning Your Sales and Marketing Teams
The best companies I've seen are the ones that understand the value of Smarketing. Smarketing is when sales and marketing departments truly work together to increase the overall success of a company.
Setting expectations is the key. And here at HubSpot, we use a Service Level Agreement (SLA) to ensure that sales and marketing are tightly aligned and on the same page. Marketing must deliver market qualified leads (MQLs, or the leads that both sales and marketing managers agree are of high quality) to sales. In return, sales must commit to working those leads and provide constructive, data-backed feedback to marketing to further optimize the overall lead generation and rotation process.
So if both teams live up to the SLA, everything should be gravy, right? Well, doing the bare minimum in any relationship isn't usually the recipe for long-lasting love. Luckily, there's opportunity for marketers to woo their sales organization by helping every sales person feed their hungry appetite. And it can be done with the Prospects tool in HubSpot. Now's your chance to establish a little good-will and help your sales team close more business. (Have you hugged a sales person today?)
The Prospects tool is all about providing your sales team with an unfair advantage. It provides valuable and actionable data by capturing a visitor's IP address and linking it back to a server, which in many cases is located at their company. So in the majority of cases, you will know what companies are visiting your website, even if they do not fill out a form on your site. That's some very actionable insight that will help your sales team engage with prospects sooner, and close deals faster.
Actionable Metrics Available from IP Address Data
So what exactly does an IP Address tell your sales organization that can help them sell more, better, faster? The Prospects tool will show you:
Name of company
Pages visited by date and views – You can see what pages they viewed on your site, and when!
Number of visits
Time spend on page
Keyword phrase they came in on (if they found you by organic search, of course)
Company location
Daily Prospect Digest – Email notification that tells you what businesses and organizations have visited your website during the prior day.
Using this information from the Prospects tool, a sales person can identify which potential prospects are more engaged based on how much time they're spending on your site, and which pages they are visiting. For example, a prospect that visits your product pages one day and spends 3 minutes reading through your copy, and the very next day returns to your site to revisit your product pages and your pricing pages is a much more engaged prospect than one who simply reads your About Us page.
Neither of these prospects filled out a form on your website, but your sales organization is now able to not only identify a new, highly qualified lead, but they haven't wasted time calling all of the prospects in the tool because of that handy-dandy qualifying information provided by the IP address.
When making the call, simply tell the sales person to initiate a conversation based upon the pages they visited to assess what level of interest they really have so not too much time is wasted in the qualification process. (That's where the unfair advantage comes into play).
Take a look at this screenshot from the Prospects tool, for example. Assuming they were a private school, I would reach out to them ready to talk about Facebook, and offer them a demo of the product.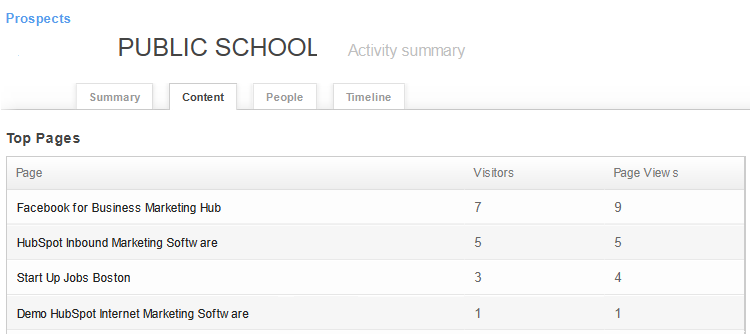 The Prospects tool is great for intelligent, efficient prospecting; but it's also great for morale. And marketers know that even armed with damning data, sometimes how a tool makes the sales organization feel about their efforts is just as important. Think about that core group of prospects that a sales person has been investing a ton of effort on -- wouldn't they love to see whether their outreach efforts are paying off? How great would they feel if one day they got an alert in their email inbox that that certain prospect was visiting their site? Then, they're empowered to continue their outreach and armed with the information needed to further engage that extra special prospect.
And if that wasn't enough to get you as excited as a kid in a candy store, think about this. As a marketer, trends will emerge around which pages attract the most qualified prospects. Wouldn't that be a good place to add a top-of-the-funnel call-to-action? You would certainly have a good opportunity to increase your visitor-to-lead conversion rate on that page… and get one step further to blowing that SLA out of the water.
Taking Prospects to the Max!
Now here's where it starts to get really exciting!
ProspectMax is the reporting behind IP address data. What makes it so valuable is that it delivers customized alerts and notifications to sales people and managers on a silver platter.
Even better, ProspectMax is a freemium app, meaning most of the features are free to use. And for those of you who don't need any of the premium functionality, ProspectMax enables you to send custom reports/notifications to each member of your sales team. And they don't even have to be logged into HubSpot to get them! If you do want customized reports based on country, keyword search, or daily delivery, then you can sign up for a 30 day free trial, and pay$19.99/month thereafter.
Top 6 ProspectMax Reports to Help Your Sales Team Focus on Their Best Prospects
So how exactly do you and your sales organization use ProspectMax reports to prioritize the best prospects? There are 6 specific reports you can run to do just that; here's what they are and how your sales organization should use them.
1) Create Email Notifications Based on Geographical Territories or Named Accounts (Free, unless you want to report on territories outside the US & Canada)
Notify your sales team of visit and page view activity for those prospects that are in an assigned territories or named account. For example, you can help your salesperson who owns the northeast territory, to stay on top of their game when a prospect from New Hampshire visits your site.
2) Upselling Existing Customers (Free)
Compile a list of existing customers and segment it based on which account managers own each customer relationship. Send alerts to your account managers each time existing customers visit your site. You might be surprised to see your customers visiting product and services pages that you weren't aware they were interested in. You could take that knowledge to initiate conversations to see if there are opportunities to sell more of your products and services into your customers install base.
3) Competitors Visiting Your Site (Free)
Alert your sales team and managers when competitors are visiting your site. What insights can you gain from knowing what pages they're visiting? For example, if a competitor visits one of your product pages that highlights a feature that they don't have (or that they have, but it's far inferior to yours) you might learn that is a differentiator that you should expose more with your prospects.
4) Most Engaged Prospects (Free)
Notify your sales reps of companies who haven't converted to a lead yet, but have viewed a good amount of pages, have visited several times, and are highly engaged. For example, you can set up an alert for companies that have visited more than 5 times AND have viewed more than 10 pages.
5) Prospects That Have Already Converted to a Lead (Free)
Notify your sales people by monitoring the visits and page views of companies that have an employee that has converted as a lead at least one time. What information are they looking at and how much time are they spending on your site? Is it consistent with the information you've already gathered from your existing lead?
6) Prospects From Organic or Branded Keyword Search (Free/Premium)
The Prospects tool shows you the keyword phrase that prospects typed into a search engine when they entered your site. If you want deeper analytics to see which prospects are typing in specific branded as well as non-branded keywords, you'll want to upgrade to the premium package. For example, you sell management consulting services. If you knew that the majority of your visit-to-customer conversions originally found your site by searching for "organization change consultants," why not focus your efforts on those prospects? Maybe you'd be so bold as to email some of your potential buyer personas that you found on LinkedIn and Jigsaw, a helpful blog article on "A Good Way To Change a Corporate Culture."
The Prospects tool and ProspectMax together provide a ton of actionable insights to help the overall success of your company. Use the intelligence to empower your sales team to have discussions with prospects based on what they're truly interested in, and have conversations with your existing customers based on the other products and services pages they visit on your site.
When sales and marketing work together as a unified team, you will engage with prospects sooner and close deals faster.
KEY, NEXT-STEP RESOURCE FOR INSTANT DOWNLOAD:
Your Turn to Comment, share your feedback:
How are you going to harness the data from the Prospects tool and ProspectMax App to increase the quantity and quality of your prospects and leads? Please share your ideas.
The following is a guest post submitted by Jon Mehlman, a Hubspot Inbound Marketing Consultant. Jon is an in-house expert on the Prospects & Prospects Max tools. Connect with him on Twitter: @jonmehlman