How to find free images for your blog - without getting sued
How to find free images for your blog - without getting sued:
Unless you slept through Content Camp or were cyberslacking during calls
with your HubSpot Inbound Marketing Consultant, you're well aware that images play an important role in maximizing the SERP performance of your blog articles.
That's no sweat for companies which have a wealth of imagery to draw upon, such as product photography. But what if you need interesting images to illustrate important ideas and your cupboard is bare?
Stock photography web sites like istockphoto.com, bigstockphoto.com, and shutterstock.com are a great resource. But the image licensing costs - ranging from $1 to $30 or more per photo - can add up quickly if you are blogging as prolifically as you should be.
And using images from Google image search, Bing, Flickr, etc. might not be the bargain it seems. Most every image belongs to someone. Using a photograph, illustration, or other graphic for commercial purposes without permission of the rights holder is a violation of the U.S. Copyright Act of 1976 and exposes you to the
risk of significant financial penalties
. For example, consider
the story of WebCopyPlus
, a copywriting firm which ended up paying $4,000 for a photo they could have licensed for only $10.
While it's true you can find images that are licensed under
Creative Commons
, it's not as fast or convenient as utilizing a stock photography service, and you'll need to sift through a lot of imagery that is not of professional caliber. Plus, the Creative Commons license is only applicable to the author's rights, but not anyone who is depicted in the photograph. For example, using this Creative Commons licensed picture of
George Clooney from Flickr
to promote your product or service could be a recipe for trouble.
But there is another option. Some relatively new services feature a wide selection of high quality images that are free for use by bloggers. And like their pricey stock photo cousins, their images are fully searchable by keywords and other criteria.
http://www.morguefile.com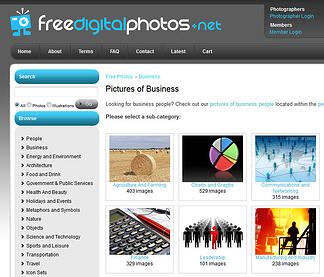 200,000+ photos and growing. Also displays commercially licensed imagesfrom the Dreamstime library.
http://sxc.hu
Now owned by Getty Images, which has aggressively pursued bloggers who have published its commercial images without proper licensing.
http://www.freedigitalphotos.net
My personal favorite; great selection and easy to use. Images are free as long as they are accompanied by a credit for the photographer.
Even when using images from the above services, it is important to understand the terms and conditions under which it is licensed for your use. For example, sxc.hu specifically prohibits the use of images for commercial purposes which include a recognizable face. Using such an image may expose you to a claim from the person depicted ("model"), because neither the photographer or you have secured a model release.
Finding and using interesting images can help you engage your reader, communicate your ideas, and extract maximum inbound marketing performance from your blog posts and other online content. But don't cut corners and misuse someone else's original work for your own benefit.