New Hubspot Consulting grad profiles: Versio2 and Innovar Collective
Okay everybody, it's Thursday and you know what they means at Hubspot: It's the final day to show set up, utilization, and results from Hubspot for this week's set of graduates from my Hubspot on-boarding & consulting program!
The following Hubspot Agency partners are graduating from my on-boarding training this week. Please check out their sites, review their content offers and show them your support for all the hard work they've done over for their first 4 months as Hubspot users!

Innovar Collective: Providing business analytics, marketing & sales optimization and opperational improvement solutions for fortune 500 firms...with an inbound twist!
The folks at Innovar Collective are graduating from their Hubspot on-boarding this week with a homepage that's rocking no less than 3 CTA's to Hubspot-hosted landing pages, offering premium content resources to their site visitors. When you visit each service page, they offer you a relevant white paper to dive deeper into each topic of interest along their different practices. Way to optimize your website to convert, guys!
Congrats to Rich, Erin and the whole Innovar Collective team. I know this is only the beginning and your firm now has a great foundation of Hubspot experience laid to offer inbound marketing campaigns and insightful analytics to some of the world's biggest brands. We salute you!
Versio2 - An International Digital and Inbound Marketing Agency
Clinton, Julien, Kristiina and the whole Versio2 team had 6 landing pages going on their kick-offf call and haven't looked back since. They just completed a website redesign and are hungry to graduate at the top of the Hubspot VAR All-Star Board!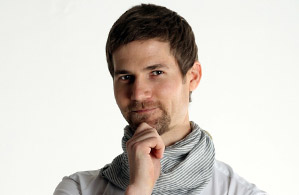 Versio2 Partner and Inbound Afficianado, Clint Haily is contemplating his next moves after graduating from his Hubspot on-boarding....at least that's what I assume he's doing in this pic.
Check out their beautiful new Inbound Marketing services page, complete with a Call-To-Action to download a premium offer - a complete internet marketing guide co-branded with Hubspot.
Check out the great use of graphics on their new Inbound Marketing Page
Big congrats to the entire Versio2 team, we expect great things of you in the months ahead as you help bring the inbound marketing methodology to new frontiers across Europe and beyond!
Key Take Away / Next Steps: Learn More About Hubspot Consulting

Do you want to follow in the footsteps of these budding Hubspot VAR All-Stars? If you haven't already, why not subscribe for free to my Hubspot consulting blog? You can keep up to date on success stories, best practices and examples from the Hubspot consulting trenches to help your company do more with Hubspot and inbound marketing.
Your Turn To Comment:
Please share, we want to hear from you:
What inspires you about the new Hubspot agency partners above?
Are you a Hubspot partner? Do you have any fond memories from on-boarding or lessons learned to share?
What advice can you offer these new graduates as they go off to launch inbound marketing programs powered by Hubspot in the future?