Now THIS is a good follow up / welcome email example | Wunderlist
I recently attended a team training session at work about time management strategies. During the discussion, one of my fellow Inbound Marketing Consultants mentioned a new app for getting stuff done called Wunderlist created by 6Wunderkinder (they're a German start-up and yes, they blog).
Other consultants in training were talking about how it was the perfect to-do list companion to Evernote. Hmmmm....Interesting.... Soooo, being the ADD technophile that I am, I immediately looked the app up in the AppStore on my ipad2 and downloaded it. I've yet to login but I've already received a welcome email from them thanking me for signing up as a new user and offering me some links to tutorials and resources to get started. It left a very positive impression and came off as "inbound marketing rockstar" material. Thus, I wanted to share with all of you. See their example below to learn more:
Screenshot of first half of the welcome email Wunderlist sent me after signing up: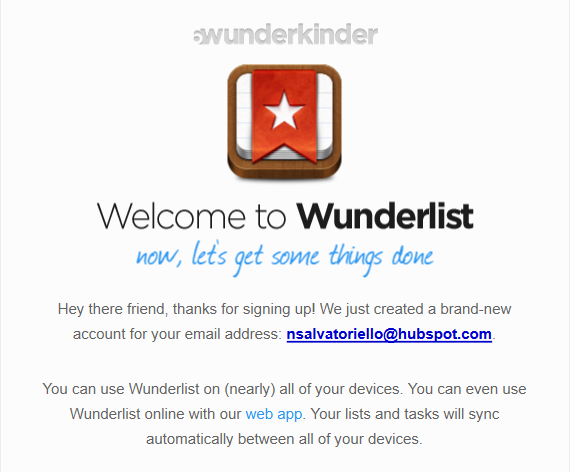 Breaking down the first part of the welcome email:
The first thing I notice is great design, graphics and lay out in the email template. Heavy emphasis on design isn't always a make for break factor for other industry communications, but since Wunderlist's competition is other slick looking apps and ease of use is one of their main value propositions, the fact that their email is as beautiful as their app makes sense.
The "hey there friend" greeting felt relaxed and intimate. Again, their choice of words match the style of the company (the brand). Our email greetings should reflect the same.
Then, they acknowledge to the new registrant what just happened - you just signed up for a new account under this specific email address. It's amazing how often this can be overlooked in our follow up emails.
Then, they lay out next steps for the reader to take along with other, quick value I can get out of my previous action (in this case, it was signing up for a new account). They link me directly to their web app so I can start using them right away on my desktop.
Screenshot of the second part of the follow up / welcome email from Wunderlist:
Breaking down the second half of the welcome email:
More rich graphics and Call-To-Action buttons linking the next natural step that a new user would want to take - get oriented as quickly and easily as possible with the new app. Now, there's no question that a very short screen recording demo does that trick the best.
They get big kudos for the opening line in the second half: "Our support team put together some videos...." This made me think - Oh, so this app has a dedicated support team and they're smart enough / savvy enough to scale themselves through recorded walk through of the app on every platform they want to be adopted on?? These are good thoughts.
Although they had multiple links to multiple videos, they were all for the same tutorial, just for different platforms. This allows them to keep it clear and simple on what to look at next, depending on the platform(s) you'll be using.
Lastly, they end with a respectful signature + links to follow the company on social media (not pictured in the screenshot).
Given all the reasons above, I had to share this email with you all to help inspire our collective efforts to get better and more effective with our email communication strategies to prospects, leads and new customers/user.
Your Turn:
What did you think of this follow up/welcome email? Are there any lessons you can take away from this example to apply to your own strategy? Do you have any questions around how I can help you apply some of these best practices to your own inbound marketing? The floor is open to you...